French wine terrorists are attacking and destroying Spanish wine trucks.
French winemakers quite literally painted the town red today when they intercepted trucks carrying cheap Spanish booze and smashed crate-loads of it all over the road.

Le Boulou tollbooth, just ten miles from France's border with Spain, was turned into a battleground this morning when dozens of protesting winemakers halted lorries and tore into their contents. They destroyed several wine shipments, smashing the bottles and pouring the red booze all over the tarmac in a vintage demonstration of the French public's penchant for demonstrating against perceived injustices.

In videos posted on X, protesters can be seen tumbling over a mountain of crates carrying Freixenet wine. Many of the crates had been upended so their valued contents spilled out across the road. Bottles upon bottles of bubbly were seen rolling around amid a sea of broken glass and wasted booze.
What sort of world are we living in, that outrages such as these are allowed to happen! I blame teetotal immigrants and beer-swilling peasants. Thank Bacchus that they didn't interrupt the Torres trucks!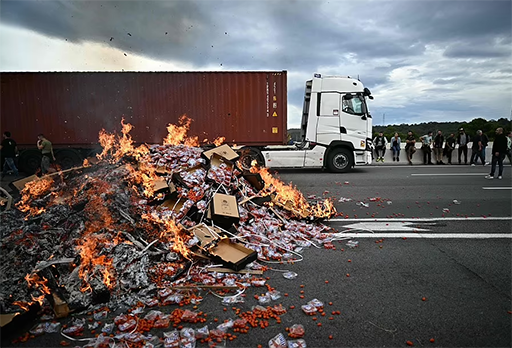 Figures from the European Commission say wine consumption for the current year is estimated to have fallen 15 per cent in France, 7 per cent in Italy, 10 per cent in Spain, and a staggering 34 per cent in Portugal. However, production in the EU has risen by 4 per cent.
There is the real problem. Now do your patriotic duty, Frenchmen! Stand by your vines, Spaniards! Have a second glass at lunch, all you Portuguese! European civilization depends upon you!
I will do my part.