An Arkhaven-related exchange on Twitter.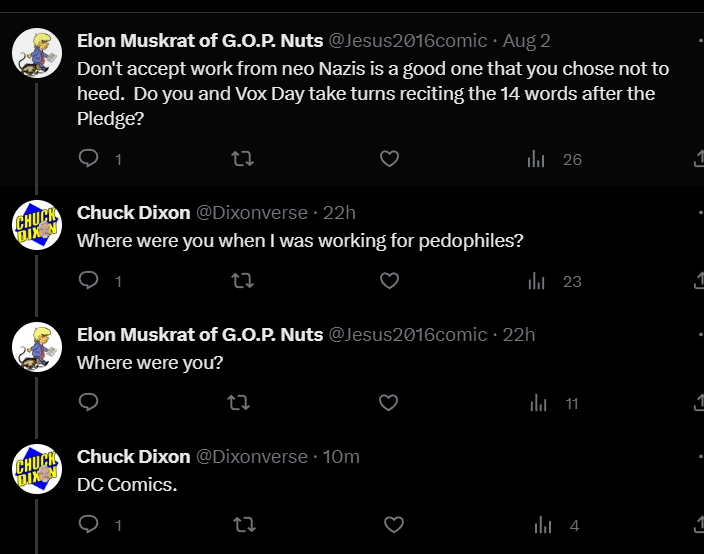 Now that can only be described with one word: FATALITY!
You can subscribe to THE LEGEND ON COMICS on UATV. Even Fox News is now reporting on his insightful video streams that are available there. Seriously, I listen to his streams while I'm driving; they're both educational and entertaining and I now know approximately 8,537 times more about the comics industry than I did when Arkhaven started.
Comic book writing veteran Chuck Dixon called out Marvel for undermining and minimizing one of its most popular heroes, the armed vigilante known as the Punisher. According to Dixon, the company is "embarrassed" by the "working class" hero and his appeal within military and police ranks.

The Punisher was a gun-wielding anti-hero created by Marvel Comics in 1974. He is described on Marvel's website as a "Family man turned crime-fighting vigilante, Frank Castle embodies the persona of the Punisher to avenge personal tragedy and ensure all criminals receive the justice they deserve."

Dixon, who has been in the comic book industry for decades, particularly in writing comics about The Punisher, has criticized how Marvel has handled the character in recent years. On a recent episode of his podcast, he shared theories to a fan about why Marvel may have grown to dislike one of their most popular characters…

He then suggested the thought process of Marvel leadership, "We're going to take the Punisher, and we're going to mangle him, and we're going to destroy him. We're going to do what no other entertainment company ever has done. We are going to purposely take one of our intellectual properties and tear it to the ground."

Former 'Punisher' writer claims Marvel 'hates,' is 'embarrassed' by character who is loved by cops, military, FOX NEWS,
If you're a fan of The Legend, you may also wish to note that a 60-page print edition of MY SISTER SUPREMA, one of the first comics created for Arktoons, will be available at Arkhaven next week. And about that Black Warrant… one guess how this particular scenario plays out. For Arkhaven and new Legend video updates, subscribe to the new Arkhaven telegram channel.