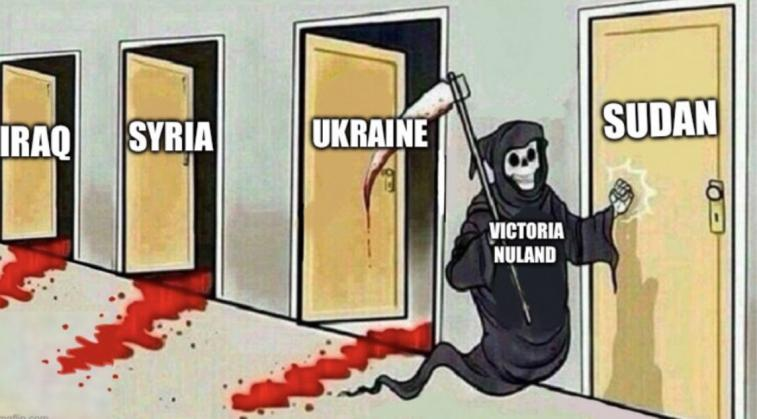 AUG 24, 2022 – US Ambassador appointed to Sudan following a 25 year absence.
SEPT 28, 2022 – US Ambassador warns Sudan against finalizing Russian naval base deal
NOV 11, 2022 – Blinken urges Sudan to consider "US support for the rapid formation of a civilian-led transitional governnent".
DEC 5, 2022 – UN brokers Framework Agreement between Sudan's military leaders and leading pro-democracy parties
DEC 7, 2022 – Blinken threatens travel ban for Sudanese who endanger Framework Agreement deal
FEB 12, 2023 – Sudan confirms deal for Russian naval base, key players Lavrov and General Burhan.
FEB 16, 2023 – CIA payout cash sent. Biden administration sends $218 million in humanitarian aid to Sudan.
MAR 9, 2023 – Coup plans finalized, orders given as Victoria Nuland visits Sudan to "discuss democracy"
APR 8, 2023 – Conflict escalates between Sudanese Armed Forces (under General Burhan) and paramilitary group RSF (under Dagalo)
APR 22, 2023 – US diplomats evacuate Sudan
APR 24, 2023 – Biden submits a War Powers Resolution to Congress regarding the Deployment of U.S. Military Forces to Djibouti, Ethiopia, and Sudan.
APR 25, 2023 – U.S. moves intelligence assets, troops into Africa.
This is precisely the process that what Victoria Nuland's husband, Robert Kagan, describes as "tending the jungle on behalf of the garden of democracy" in his 2019 book The Jungle Grows Back.