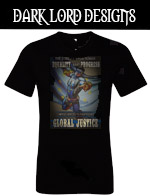 The first Alt★Hero shirt is here! This one features a design that is very similar to the poster previously featured on Dangerous.
This one says, "The Struggle for Human EQUALITY and PROGRESS Needs Heroes Who Fight For GLOBAL JUSTICE"

Hey, we want to bring over all those Marvel and DC readers, right? Can't hook them without bait.