Brad Torgersen and the Baen Anklebiter's Brigade are STILL going on about Jon Del Arroz for no reason that anyone outside of their little Real Conservatives Club can discern.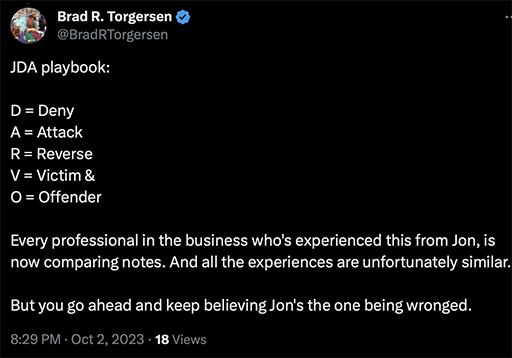 This is a desperate and unconvincing attempt to reverse-DARVO. Remember, this was posted after Torgersen went out of his way to point out that JDA is divorced and even posted a link to the public record of the divorce filing.. Now, Torgersen was never a rocket scientist, but yes, if you're publicly attacking someone over the state of their marriage, they are indeed the party who is being wronged.
It should be noted that JDA's wife filed for divorce in November 2022.
– Brad Torgersen, Oct 1, 2023
Duly noted, Torgersen. Duly noted. Just remember, you're the one who established that marriages are fair game.
Now, regular readers already know what writers active in the community have to say about JDA. Supporting that is this email I received yesterday:
I thought I'd add my two cents regarding the character of Jon Del Arroz — when I reached out to him on Gab as a complete nobody writer in 2017, he gave me an excellent blurb for my book in a couple of weeks despite his presumably busy schedule. Afterwards, he took the time to follow up on the release and when he found out that I hadn't sold any copies yet, he posted in a bunch of private groups to try and drum up some sales for me. Great guy and I'll never forget his help.
It's going to be hilarious when Baen finally shuts down and all these wannabes and never-weres finally stop pretending that they're the only real professional writers because someone once offered them a book contract for $5,000. What's so amusing about their bizarre pretensions is that real writers with the talent to get signed by the major houses and the literary houses – which is to say, writers like me – have always scorned the talentless genre writers signed to specialty imprints like Baen.
Note: I said writers like me. Not me personally. I've never scorned independent or genre writers and after repeatedly getting paid to not write books from the major houses, the only reason I talk to Random House and Simon & Schuster these days is to acquire rights from them.
But perhaps the funniest thing about this Baen Books professional in the business is that he has all of 3,087 Twitter followers.
UPDATE: Another creator with direct experience working with JDA provides her testimony.
Authors Larry Correia and Brad Torgosen have been attacking their fellow author Jon Del Arroz, I think because he uses internet controversy as a marketing strategy. Apparently that's a no-no? And they've attempted to use personal family troubles of Del Arroz as a weapon in their campaign, which is despicable. So I thought I should add my voice to the character witnesses for Del Arroz.