Jeremy Clarkson publicly pleads guilty, hoping for absolution. Guess what happens next!
One of the strange things I've noticed in recent times is that whenever an MP or a well-known person is asked to apologise for something, no matter how heartfelt or profound that apology may be, it's never enough for the people who called for it in the first place. So I'm going to try and buck the trend this morning with an apology for the things I said in a Sun column recently about Meghan Markle. I really am sorry. All the way from the balls of my feet to the follicles on my head. This is me putting my hands up. It's a mea culpa with bells on.
Deep movie voiceover: he did not buck the trend.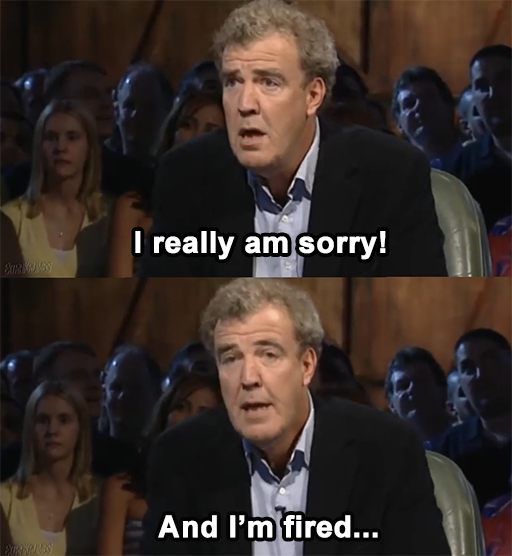 Headlines:
The Sussexes' pointed put down to Jeremy Clarkson as they reject his emailed apology for column saying he hated Meghan – as it emerges Amazon Prime 'is set to drop the presenter'
Has ITV now axed Jeremy Clarkson? Channel says it has 'no further commitments' to Who Wants to be a Millionaire? and star after next series and postpones celebrity specials – as Amazon cancels press call for Clarkson's Farm amid Meghan column backlash
Is this the real reason Amazon 'axed' Jeremy Clarkson?
It's not as if someone hasn't written a book about this very situation, after all.