Dana Perino's eulogy for "America's Dog", Jasper the Viszla:
Jasper was first on "The Five" in June 2012, a tiny puppy that I could easily hold in my arms. I think he slept through that first appearance, but a star was born.
I couldn't help bringing up Jasper and his antics on air. Greg Gutfeld loved to tease me about it, which made me do it more. He even came up with a fake dog of his named Casper. No one knows what happened to Casper. Somebody check Greg's basement, please.
I would post photos of Jasper and all his antics and adventures. People got a kick out of his "lil' ear" – half of his left ear was missing – perhaps bitten off by a sibling when they were fighting for room in the womb. It gave him real character.
A viewer of "The Five," FiveFanPhotoshops (now a good friend and my illustrator for Let Me Tell You About Jasper), created incredible pictures of Jasper in all sorts of places – the U.S. Open, the World Cup, presidential debates, and even space.
They were remarkable, made people laugh, and even fooled people "Is that real?"
His following grew. Soon, people were asking about Jasper more often than about politics. And that suited me just fine.
TSA agents would ask if I'd packed Jasper in the suitcase. Police officers would ask me, "How's Jasper today?" Fans visiting New York City would be on the lookout for him as well. Once, a jogger in Central Park stopped us.
"Oh wow, is that Jasper?" Yes. Would he like a photo? Absolutely.
So, I asked Peter to take the picture with the man's camera, and went to get in the shot.
"Oh….um, just Jasper."
Oh. Yes, of course. My star was happily eclipsed.
This weekend we heard from a woman who was visiting Manhattan last winter with her sister. She made her get up early and dragged her to a certain spot in the park at 7:15 a.m. where she hoped to catch a glimpse of Jasper. To their delight, there he was with Peter, looking for fish in the pond. She got pictures with the dog she knew through social media and Fox News. She contacted us this weekend to send her condolences and said that meeting Jasper was the highlight of her trip.
I've heard from friends and strangers who said they'd never been dog people until Jasper. Some became dog owners because they wanted to experience that special bond as well. Others had just followed him because he was nicknamed America's Dog on "Red Eye" (that was the show before Gutfeld Exclamation Point)– not because we thought he was better than any other dog, but because I said I'd be happy to share Jasper with everyone. I'd do all the work, and they could claim him as one of their own.
When the pandemic shutdowns started in March 2020, I added a Facebook Live reading for kids every afternoon for 15 minutes. I didn't plan on having Jasper be a part of them, but he insisted on sitting next to me. He'd look at the camera or at the book's illustrations, and the kids (and the parents and grandparents watching alone) loved it. I got a note from one of those parents this weekend – their kids still remembered Jasper's readings and considered him their dog, too.
At Fox News, everyone knew of Jasper – and even though he didn't come to work with me, his presence was felt there as well. The producers of "The Five" knew him his entire life and have indulged me with his appearances. Jasper gave us a lot of material to work with.
Staff throughout the building would ask about him, and they'd post his funny photos and videos to the website. One of the best was when Peter and Jasper rode a Harley and sidecar in a Fourth of July parade in Batman and Robin costumes, Jasper wearing his Doggles (no eye protection, no ride – Jasper knew the rules and never tried to take them off). We won "Best Dog" that year at the parade. America strong indeed. I was so proud.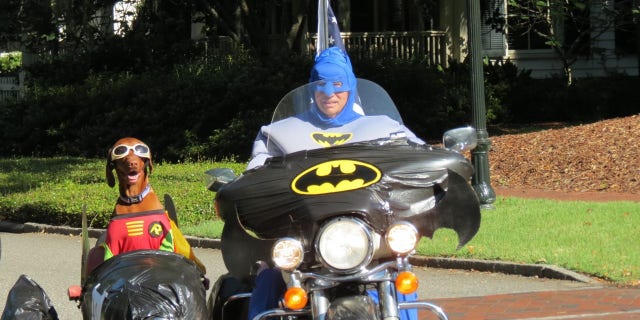 RIP Jasper. Viszlas aren't just the most beautiful dogs, they are the best dogs. Their earnest expressions, combined with their boundless, but dignified liking for everyone, makes them irresistible even to people who usually don't like dogs. And they're always up for anything, so long as it involves doing it with their family.